Buy Xerox Supplies from Unisys
When you use genuine Xerox supplies, you'll get vibrant colours, sharp text, crisp fine lines, and consistent output – page after page. You expect excellence from your Xerox printer, and only our supplies can ensure that with every print. Never compromise on quality.
Verify Your Xerox Supplies Are 100% Genuine
Counterfeit Xerox toner cartridges are difficult to distinguish from Genuine Xerox cartridges. These fakes are a combination of refilled/remanufactured and brand-new third-party cartridges boxed in replicas of Xerox original packaging. Unlike Xerox, counterfeiters have no regard for the quality, reliability, or safety concerns that bogus cartridges pose.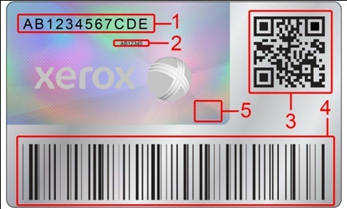 Xerox affixes a holographic security label with a unique serial number on the outer box of every genuine Xerox supplies item. There are several generations of labels in circulation. The most recent, shown here, has the following security
Elements
Serial number on top of label
Micro numbering above logo
Presence of QR barcode
Barcode at bottom of label
Kinetic lens effect